This is the 9th installment of WeSpire: Weekly!
Where 3,235 CSR pros get better at social impact, sustainability, wellbeing, and DEI in less than 5 minutes every Wednesday.
In Part 1 we dug into internal communication tools to build internal awareness about your CSR engagement programs.
So today we are going to breakdown some quick and easy steps to make your content more accessible and socialize your programs using Google Drive/Sharepoint and Slack/Teams.
This is a short one today but these little details can make a BIG difference in removing barriers for action and elevating your programs
Before we jump in sign up for WeSpire: Live! on August, 23rd @ Noon EST featuring Andrew Winston, author of Net Positive, to discuss the Inflation Reduction Act and other exciting developments in the world of ESG.
If you like this newsletter you will love this monthly live series!
Want to see what it's all about? The first episode is available on YouTube!
---
Sharepoint & Google Drive
CSR engagement can only be as good as the accessibility and share-ability of the program's content. If your employees can't easily find information, instructions, and content they simply will not engage at a high enough rate to have an impact.
Here are 4 steps to take to keep your content accessible and engaging within your file sharing like Google Drive or Microsoft Sharepoint:
1. Keep your main folder as high in the folder hierarchy as possible
Elevate your content out of hiding! Differentiate your content & program by separating your folder from other department folders.

2. Use invite notifications to alert users of your new folders and content
In Google Drive select "Share" and search for your all-email group. Add a descriptive and compelling message. Be sure to check the "notify people" box so everyone gets your invite.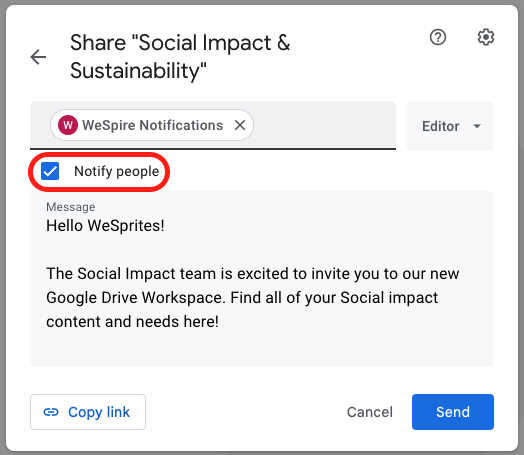 3. Use a consistent naming convention for your folder & files to make searching easier
Most Google Drive users know what they're looking for. Make it easy for them to find your content by building a purposeful naming convention.
HERE are some file naming conventions you can implement today to make searching for your CSR content much more intuitive.
4. Include a how-to-use document to help navigate the content saved in your folders
This document can live in your most topical folder in the hierarchy or live within your internal articles software like Notion.
This document should contain 3 key sections:
What is CSR?
How to use the CSR benefits
How to navigate the CSR content folder & find what you are looking for
Make this document easy to read and similar to a blog post or article by linking directly to the documents you reference so users can quickly get ingrained in your system.
Slack & Teams
Slack & Teams is where employees spend most of their time communicating both on a professional and social level at work. If you want them to engage with your program and talk with their peers about what you are doing then you need to go to them
Here is how to make the most out of slack when launching new programs:
1. Set up dedicated Channels
An employee sustainability channel is an accessible way to get started as it is something almost anyone can accomplish with a low barrier to entry.
2. Create a challenge with a specific goal and pin it to your channel
Try this sustainability campaign announcement template: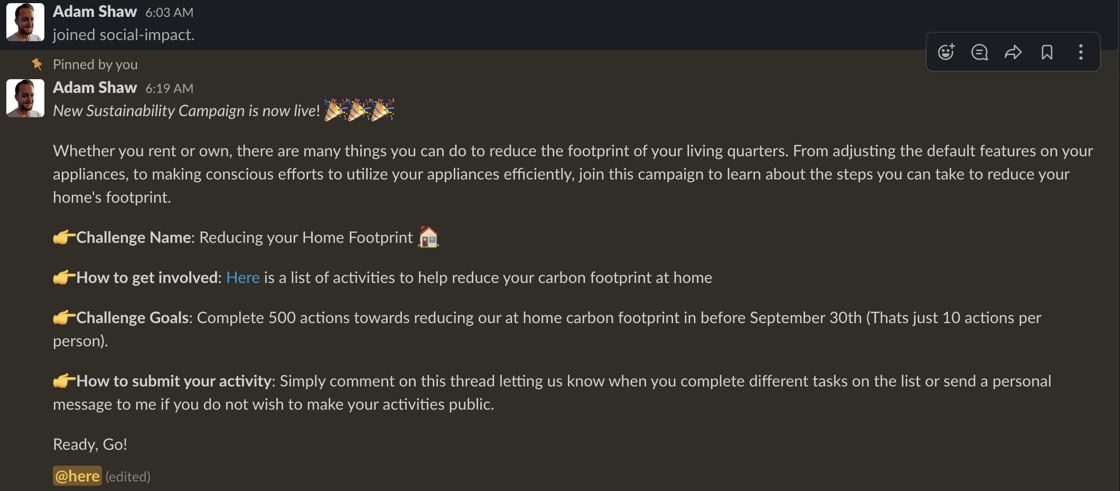 Include an enticing introduction, name the challenge, note how to get involved (bonus: include an activity list in the form of a spreadsheet that is linked and easily accessible in your new folders), include clear goals, and outline how to submit the contribution.
Quick tip: use "@here" to notify everyone in the channel of new updates and make the submission process as easy as possible to remove any friction in reporting
4. Track results by individual, team, and company
Communicate out progress early and often to generate interest & FOMO (i.e. fear of missing out). Add posts to other channels and work with internal comms to highlight big accomplishments and milestones.
Next week we will dig into 6 tools for gathering data, visualizing data, and communicating out results with easy-to-use templates.
How are you launching your CSR programs and keeping your programs top of mind?
Share with us how your team is driving awareness and engagement about your CSR programs using existing tool sets or if you are finding it difficult to work within the tools you currently have.